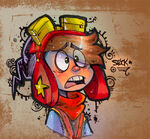 Napoleon Maxwell Sowachowski (commonly referred to as "Sock") is the main character in Erica Wester's short film and comic Welcome to Hell. Wester first began drawing Sock without a name, and when she asked friends for suggestions she eventually decided on "Sakuryu". He has endured several name changes. Formerly he has been Sakuryu (or Saku) and Kilroy Conrad. She later chose to Americanize his initial name into "Sock", which became short for Sowachowski. A possibly defunct explanation for how Sock comes from Sowachowski is that a childhood friend, likely Jojo, couldn't pronounce Sowachowski. Read more...
Type keywords or an article name in the search box at the top of the page, below the circular links in the main body of the front page, or in Search. Need more navigation help? Check here.
"
Jonathan, come on! A little death never killed anybody.
"
The Welcome to Hell Wiki is a growing encyclopedia ("wiki") maintained by fans to document Erica Wester's short film and webcomic Welcome to Hell.



6 October, 2015 - New home for original fan character pages. More...
3 November, 2013 - Enabled chat and achievement features. More...
23 August, 2013 - Welcome to Hell wiki created! More...
This wiki was created on August 23, 2013. Welcome to Hell and related media © Erica Wester.