W2H2 (working title)

A sneak-preview board of Sock by Neil Morrissey.

Title
W2H2 (working title)
Directed by
Erica Wester
Release date(s)
2018
Language(s)
English
W2H2
is the working title of the second animated installment of
Welcome to Hell
. It will pick up where the original short film left off, with a focus on
Sock Sowachowski
's
human
counterpart,
Jonathan Combs
. There is no set release date.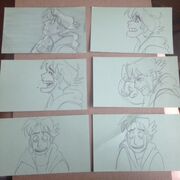 W2H2 will focus on developing Jonathan and illustrate "how he's handling his newfound situation with Sock".[1][2]
Voice actors have not yet been officially cast. Erica Wester could have all the same voice actors from the first film, but is also considering bringing on some Internet personalities.[3]
The film will definitely feature Sock and Jonathan. An unknown character with some relation to Jonathan has appeared in storyboards available to Wester's Patreon patrons. Lil Nancy, Jojo, and Providence will not appear in the film, but sometime later on in the series.[4]
Production
Edit
Pre-production of the film was announced in October of 2015, after Wester had moved from Kansas City, Missouri to Los Angeles, California, to pursue a job in the animation industry.[2] Storyboards for the film were mostly complete by January 26, 2015.[6] Production was sometimes put off in order to complete freelance projects.[7] The film will be animated digitally with TVPaint animation software and a Cintiq hybrid graphics tablet, rather than the pencil-and-paper to digital style of the first film.[8][9] Neil Morrissey and a few other friends are collaborating with Wester to complete the film.[1][10]
Character design will remain mostly the same, although Wester admits their designs will be more consistent than in the first film, when Wester had less experience.[5][11][12]
Sneak peeks
Edit
Supporters of Wester's Patreon recieve occasional sneak peeks at the storyboards and animation for W2H2.[13]
Erica has stated the film would be released in late-2018.
References
Edit