Mephistopheles

Official art of Mephistopheles by Erica Wester.

Biographical information
Birth name
Mephistopheles
Nickname(s)
Meph or Mephi (fandom)
Title(s)
Prince of Darkness[1]
Age
N/A
Gender
Male
Physical information
Height
6'4"[2]
Eye color
Yellow
Hair color
Red
Relationship information
Affiliations
Hell
Sinnergy, LLC
Series information
Voice actor
Neil Morrissey[3]

Bruno Sant'Anna (Portuguese)

First appearance
Welcome to Hell film
Welcome to Hell comic (pg. 7)[4]
Signature
"You work nine to five and you get weekends off, she only gives sundays off and I'm the bad guy."
—Mephistopheles explaining the job to Sock
Mephistopheles (sometimes referred to as "Meph" or "Mephi" in fandom) is a character in Erica Wester's comic and short film Welcome to Hell.
Concept and creation
Edit
This section has no content. You can help Welcome to Hell Wiki by adding information to it.
Characterization
Edit
Outward appearance
Edit
Mephistopheles wears a purple business suit and white undershirt with a flame pin, the logo of Sinnergy, on the left lapel. The suit's pants and shoes fade to black. He has orange colored ginger hair, with two triangular sideburns, similar bangs, and a goatee.[5]
Personality
Edit
Mephistopheles is described as "affably evil" ━ he's a nice enough guy despite effectively being the devil (and would prefer that he not be called that).[6][7] He also believes that he has a better "workplace" than Heaven ("She only gives Sundays off..."[8]). He claims his job so hard that he is the only one suffering
Background
Edit
Providence, another deity character, created Mephistopheles "with the intent to have some sort of soulmate."[9] He was created after the original angels, the only angels who were not originally human.[citation needed] A disagreement with Providence led to his residence in Hell. [10]
Relationship with Providence
Edit
It has been alluded to that he has a history with Providence, who is absent in the comic but briefly suggested in the film.[8] His relationship with her was "pretty deep" before they split up. There are a lot of hurt feelings between them, but Mephistopheles holds more of a grudge than she does.[11]
Abilities and skills
Edit
In the film and comic, Mephistopheles displays the ability to levitate and teleport. He also has control over his visibility, and can choose whether or not to appear to certain individuals.[12] "By default", however, he and other "deity characters" (like Providence) are not visible.[13] It is unclear whether or not this applies to all beings or just humans.
Appearances
Edit
As early as 2007, initial versions of Sock, Jonathan, and Mephistopheles appeared in online media published to Wester's social media accounts. Formal manifestations of their story began with the dropped 2010 to 2011 Welcome to Hell webcomic and later Wester's 2013 Kansas City Art Institute (KCAI) graduation film, also titled Welcome to Hell. The short film is considered the authoritative version of events, i.e. "most canon".
Welcome to Hell webcomic (2010-2011) Edit
Main article: Welcome to Hell (webcomic)
Mephistopheles's first debut in
Welcome to Hell'
s formal media was as one ofthe main characters of the
Welcome to Hell
webcomic, published through the social art website
DeviantArt
from May 26, 2010 to May 11, 2011.
[14]
[15]
Mephistopheles first appeared on page seven and Jonathan was never introduced. Sock appeared on each page.
It was left unfinished, with eleven pages and a "Daily Deviation" award for pages one and ten. Wester has expressed interest in continuing where the short film left off as a comic in similar format to the original.[16]
Welcome to Hell short film (2013)Edit
Main article: Welcome to Hell (short film)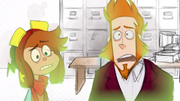 Wester's senior thesis ("graduation film") at KCAI, the
Welcome to Hell
short film, was crowdfunded through the
Kickstarter
platform beginning January 1st, 2013 and was fully funded by January 31st, 2013.
[17]
It details a revised version of the events presented in the
Welcome to Hell
webcomic and from there elaborates on Sock's first days with Jonathan Combs. Mephistopheles assigns Sock to drive high-school age Jonathan to suicide .
[18]
W2H2 short film (TBD)
Edit
Main article: W2H2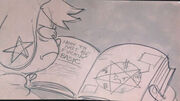 An upcoming installment of Welcome to Hell with no set release date will feature Sock and Jonathan, and presumably also Mephistopheles.[19] Wester is referring to it as "W2H2" until a title is decided upon.[20]
He shares his voice actor with the character Boss from the Bird and Fish animation.[21]
Wester was concerned that he sounded too much like Peter Griffin, a character from the American adult animated sitcom Family Guy.[22]
Morrissey adlibbed many potential punishments for Jonathan in Hell before mentioning off-hand The Hall of Crippling Phobias, which Wester enthusiastically adopted into the final cut.[23]
Posts for later development of page
Edit
References
Edit