Jonathan Combs

Official art of Jonathan by Erica Wester.

Biographical information
Birth name
Jonathan Combs
Age
16 - 19[1]
Gender
Male
Physical information
Status
Active
Height
5' 8" - 5' 9"[2]
Eye color
Blue
Hair color
Blond with brunette undercut
Relationship information
Family
Unnamed mother and father
Series information
Voice actor
Doug Hudson[3]

Arthur Vinicius (Portuguese)

First appearance
Welcome to Hell film
Jonathan Combs
is a character in
Erica Wester
's short film
Welcome to Hell
. He is the
demon
Sock Sowachowski
's
human
counterpart. He first appeared in the
Welcome to Hell
short film and was voiced by
Doug Hudson
.
Concept and creation
Edit
Wester notes that he "looks like a stoner" but isn't, and that it might be the influence of the main character Anton Tobias of the 1999 horror-comedy film Idle Hands and Roger from the musical Rent.[4] She also mentions that he reminds her of Trey Parker from the 1998 comedy film BASEketball.[5]
"
...years ago I was flipping through a phonebook trying to come up with a last name for [Jonathan] and I saw 'Combs' and it reminded me of [a Tourette's Guy video].
"

—Erica Wester, via welcometohellfilm[6]
His first name, Jonathan, was suggested to Wester by a friend and was to be used until a better name was thought out.[7] Coincidentally, in the popular 1979 single The Devil Went Down to Georgia by The Charlie Daniels Band, a young man named Johnny wagers his soul on a fiddling contest with the Devil. Despite the similarity, Jonathan's name ended up staying because it is "common [and] boring", which is a good contrast to Sock's "completely ridiculous" name.[8][9] It was not influenced by The Charlie Daniels Band's song. However, the decision to spell his name "Jonathan" as opposed to "Johnathan" is a nod to Jonathan Larson, composer and author of the musical Rent .[9]
He does not yet have a middle name and may never have one.[10] His last name, Combs, is partly inspired by the 2005-2008 "Tourette's Guy" viral videos and an entry Wester happened to notice while looking through a phone book.[6]
Wester envisions Jonathan's family as "ambiguously upper-middle-lower class", with a working mother and father, who would perhaps run a small local blue-collar business. She considered making him an only child, but enjoys the idea of at least one sibling.[11] Jonathan does not see his parents often, either of his own avoidance or because of their work hours.[1]
Characterization
Edit
Outward appearance
Edit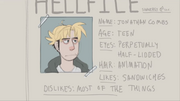 Jonathan is typically shown wearing a grey zip-up hoodie, scuffed blue jeans, and green high-top sneakers. He also has purple over-the-ear headphones and a black side bag. His gym uniform consists of blue shorts and a white T-shirt.
[12]
The purple color of his headphones was decided when one of the
colorists
posted fanart of Sock and Jonathan wherein Jonathan's headphones were purple. No color had been formally chosen and Wester stuck with the purple.
[13]
The structure of his hair is a deliberate attempt to emulate a popular animated men's haircut dating back to the late 1980s and early 1990s. Dubbed "animation hair" by Canadian animator John Kricfalusi, it consists of a shaved undercut slightly darker than the longer hair above.[14] Shortly after deciding upon his hair, Wester procured an old figurine of the character David from All Dogs Go to Heaven 2, which were distributed as promotional tie-in toys in Subway children's meals,[15] to be a 3-dimensional reference for the form of Jonathan's hair.
Personality
Edit
He is cited as possessing a "mild disrespect for authority", is an introvert, and does not conform to the common depiction of "irrationally angry" teenagers.[11]
Fanon surrounding Jonathan includes his mother being single,[1] that he plays guitar,[16][13] and that he enjoys sandwiches very, very much.[1][13] He is also regularly depicted as an angel in fanart, which takes general cues from similar official promotional art[17] and a previously pitched ending where he is hit by a bus and thus becomes an angel.[18][19] Fanon also suggests that he has an older sister, first name beginning with a C.[20]
Posts for later development of page
Edit
References
Edit